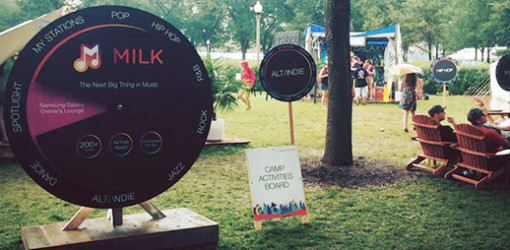 Attending festivals is all about having fun, and the last thing you want to feel is that you're constantly being hounded by sponsors promoting their newest product or services.
This year at Lollapalooza, I noticed that sponsors kicked it up a notch, particularly Samsung Galaxy. From free swag to relaxing lounges, Samsung's Summer Campground got consumers to gravitate towards its booth and interact with the brand. Not only was the concept strategic to the venue, the amount of people waiting to participate in their activities was astounding.
---
The Samsung Galaxy Experience
Samsung pitched swanky tents to promote its family of devices along with its free radio streaming app, Milk Music, and created an experience for 2014 Lollapalooza festival goers. It incorporated the use of its tablets and phones with fun activities offering free swag. (For example, choosing metallic tattoo design via the galaxy tab S 5 tablet or ordering a refreshing lemonade curated by genre on the Milk Music app.) This allowed consumers to interact with their newest product at their own leisure while also leaving a pleasant impression as they left the campground.

Aside from all the freebies as common promotional gimmick, Samsung enhanced the experience by adding patio seating, hammocks, and nice upholstered couches for exhausted attendees to lounge on. It's expected at a festival to resort to resting on the concrete floor, so these nice accommodations made it feel like home.
Samsung also dispersed Power On charging stations for Galaxy mobile devices throughout Grant Park, a feature exclusive for Samsung customers. It made it very convenient to get a battery boost without paying $5 at Lollapalooza designated charging valets, not to mention there was always brand presence as you went from stage to stage.

---
Before Lollapalooza I had no personal connection to Samsung—I'm a dedicated Apple fan—but I must give credit when it's due. Samsung not only has an amazing concept and strong execution, it offered an experience that made a great first brand impression.